Description
Pre-trimmed Steam Stopper Rectangle
There are different Rectangle Steam Stoppers to suit different sized Showers.
A 760 x 900 shower requires a 735 x 890mm rectangular shower. Read Recap* below
There are also variations of the 1200 long showers
These fit most 1200mm long showers from 720mm wide to 1000mm wide, in either corner or alcove installations.
It is designed to fit all showers between 750 x 1100 through to the 1200 x 1000 showers, including those with curved doors. It will not matter if your shower has tiled walls or an acrylic liner, has a pivot or sliding door, is in an alcove or is a corner install our Steam Stoppers will fit.
A Steam Stopper will …
Stop Steam from being made in your shower.
Stop Mould from growing
Stop pealing paint
Stop your mirror from misting
Make your paint last longer
Reduce the cleaning of your bathroom
Save power
We now have Steam Stoppers to suit curved 1200 x 800 showers please contact us to confirm your sizes
If you are not sure on the size of your shower please contact us
Measuring Your Shower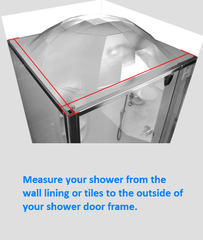 *Recap on Steam Stopper Rectangle
760 x 900 Steam Stopper
Dome size 820 x 660mm
Minimum Overall cut size 860 x 690mm
Max size 930 x 780mm – special order
Std overall sizes  890 x 735mm
Untrimmed size not available
1200 x 900 Steam Stopper
Dome size 1050 x 680mm
Minimum Overall recommended cut size 1090 x 710mm
Max size 1200 x 1000mm
Std overall sizes  1173 x 735mm
                               1173 x 875mm
Untrimmed size  1200 x 1000mm
********
Please note for non std sizes
If the Steam Stopper supplied needs to be cut to suit, (the dome as such is 680 x 1050mm).
We recommend any curve be cut with a Router. If you need to trim the sides you will find the cutting instructions here.
Click on the image for a larger version to print and take into your chosen supplier to get a suitable Steam Stopper.
Installation Instructions link for the Steam Stopper is at bottom of this page