Description
These fit most 900mm or 1000mm square showers, either corner or alcove installations.
This Steam Stopper Square is suitable for most 1m x 1m and 900mm x 900mm Square shower cubicles, both those that are placed in the corner of a room and in an alcove situation.
Once the supporting brackets are placed in position and the Steam Stopper is trimmed to size, all you need to do is place the Square Steam Stopper on the top of the shower and the
job is completed.
This Square Steam Stopper will:
Stop Steam from being made in your shower.
Make your paint last longer
Stop your mirror from misting
Pealing paint is a thing of the past
Reduce the cleaning of your bathroom
Stop Mould from growing
Save power
Measuring Your Shower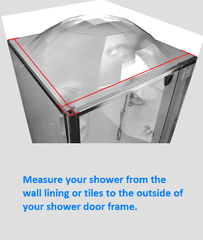 Please note
For sizes other than std (as above) the Extra Large Steam Stopper can be supplied if need be, it is 995mm x 995mm, (the dome as such is 810mm square).
The untrimmed Steam Stopper will need to be trimmed to suit your shower, you will find the cutting instructions here.
Installation Instructions link at bottom of this page